Sled dog tours in Sweden - 4 days 690€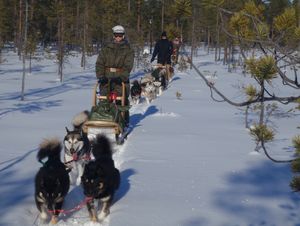 The sled dog tours take place in the southernmost mountain region of Sweden, in the area of the Fulufjäll National Park and the Fedungfjäll Reserve. Here is the highest waterfall in Sweden and it is a large untouched nature reserve for wolves, bears, lynx, elk and reindeer.


Individual tour design
The events are led by Hendrik Stachnau, one of the most successful sled dog handlers in the world (German and English speaking)
We are the only operator in Europe that offers sled dog tours exclusively with the original sled dogs, pure-bred Alaskan Malamutes and Greenland dogs.
Price of the tour per person: 690 €
Tour description Sled dog tour 4 days:
On the day of arrival, the participants are made familiar with the dogs and the material and there is a cozy welcome dinner by the open fire. You can then decide whether you want to spend the night in the rustic hut in beds directly by the fire or in the Swedish log cabin, which exudes a special atmosphere through the wood-burning stove and candlelight.
In the morning we go into the wilderness with the sled dog teams and spend the night in a wilderness hut, far away from any civilization. Everyone drives their own team of 3-4 large, powerful Alaskan Malamutes and Greenland dogs. These dogs are much larger and more powerful than the newfangled sled dogs that are mostly used for tourist touring today. You have a special charisma with a lot of personality and philanthropy. The route and the accommodation can be agreed in the group and adapted accordingly to the wishes of the guests. The camp of the wilderness lodge is about 500 meters above sea level. It is possible to reach the treeless Fjäll region at an altitude of over 1000 meters in a day's hike and enjoy a unique view of the Swedish and Norwegian mountains. On the other hand, we can go on a journey through the wild mountain valleys and look for traces of elks and wolves. There are several wilderness huts that can be approached. When deciding on the course of the tour, we naturally have to take the weather into account.
On the third day we stroll through the tranquility of the Scandinavian winter landscape with our carriages and arrive at the camp in the evening, where we end the experience around the campfire with typical Swedish food. You can also warm yourself up in the rustic wood-heated wilderness sauna.
On the fourth day, after breakfast and saying goodbye to the dogs, it's time to leave.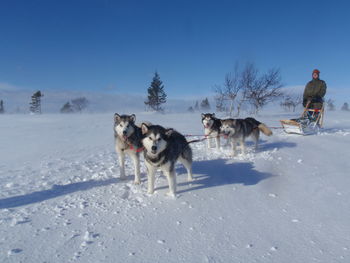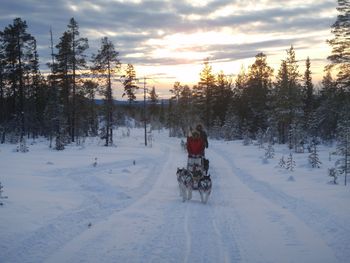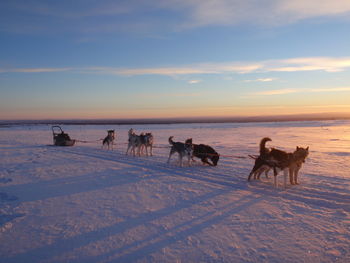 Events:
01. 4 days sleg dog tour 01.12.21 - 04.12.21
02. 4 days sleg dog tour 05.12.21 - 08.12.21
03. 4 days sleg dog tour 08.12.21 - 11.12.21
04. 4 days sleg dog tour 12.12.21 - 15.12.21
05. 4 days sleg dog tour 15.12.21 - 18.12.21
06. 4 days sleg dog tour 19.12.21 - 22.12.21
07. 4 days sleg dog tour 09.01.22 - 12.01.22
08. 4 days sleg dog tour 12.01.22 - 15.01.22
09. 4 days sleg dog tour 16.01.22 - 19.01.22
10. 4 days sleg dog tour 19.01.22 - 22.01.22
11. 4 days sleg dog tour 23.01.22 - 26.01.22
12. 4 days sleg dog tour 26.01.22 - 29.01.22
13. 4 days sleg dog tour 30.01.22 - 02.02.22
14. 4 days sleg dog tour 02.02.22 - 05.02.22
15. 4 days sleg dog tour 06.02.22 - 09.02.22
16. 4 days sleg dog tour 09.02.22 - 12.02.22
17. 4 days sleg dog tour 13.02.22 - 16.02.22
18. 4 days sleg dog tour 16.02.22 - 19.02.22
19. 4 days sleg dog tour 20.02.22 - 23.02.22
20. 4 days sleg dog tour 23.02.22 - 26.02.22
21. 4 days sleg dog tour 27.02.22 - 02.03.22
22. 4 days sleg dog tour 02.03.22 - 05.03.22
23. 4 days sleg dog tour 06.03.22 - 09.03.22
24. 4 days sleg dog tour 09.03.22 - 12.03.22
25. 4 days sleg dog tour 13.03.22 - 16.03.22
26. 4 days sleg dog tour 16.03.22 - 19.03.22
27. 4 days sleg dog tour 20.03.22 - 23.03.22
28. 4 days sleg dog tour 23.03.22 - 26.03.22
29. 4 days sleg dog tour 27.03.22 - 30.03.22
30. 4 days sleg dog tour 30.03.22 - 02.04.22
31. 4 days sleg dog tour 03.04.22 - 06.04.22
32. 4 days sleg dog tour 06.04.22 - 09.04.22
33. 4 days sleg dog tour 10.04.22 - 13.04.22
34. 4 days sleg dog tour 13.04.22 - 16.04.22
Services:
Overnight stays in the wilderness lodge in the camp and en route
Catering in the camp and during the tour
Team of 3-4 Alaskan Malamutes / Greenland dogs, the largest sled dogs, locomotive of the north
Accompanied by an experienced dog handler
Use of the wilderness sauna

Program notes:
Prices: In € / pers. If you arrive by yourself
Dates: Arrival day-departure day in Sweden
When traveling by air, dates are identical to flight days
When arriving by car or by ship, plan 1 additional day for the outward and return journey
Number of participants: max. 6-8 people + 1 guide
Conditions:
Team spirit, tolerance, improvisation skills, normal to good physical condition. Participants are expected to do community work. Everyone takes care of their own team under professional guidance.

Overnight stays:
During the tour we spend the night in simple mountain wooden huts, without electricity and running water / optionally also in an Indian tent heated by an oven. Before the stove provides cozy warmth, it is time to chop wood. Otherwise overnight in the wilderness lodge near Särna.

Catering:
The composition of the catering is based on many years of experience and is suitable for expeditions. Petrol stoves replace the built-in kitchen. The musher knows the clear springs that are sometimes hidden under the blanket of snow. Drawing water is part of the daily work. Salmon, elk and reindeer are also on the menu.

Weather:
The area is considered one of the snowiest regions in Europe. Winter comes early and says goodbye late. The clear air is very dry, so that it is less cold than in our latitudes. Most of the time it is sunny and the sky is a bright blue shade. Almost 98% of our guests said the temperatures were pleasant. 85% of those guests who were in Sweden for the first time found the winter warmer than originally expected. Very good snow conditions and a wonderful starry sky compensate for cold nights.

Personal equipment:
Für For winter activities you need good and warm clothing, preferably made of windproof and breathable materials. Ski clothing combined with thermal underwear is sufficient in most cases. Head torch, thermos flask, sunglasses and protective cream should not be missing.


Sleeping bags, overalls and shoes for low temperatures can be borrowed spontaneously on site for a fee.
SEK 30 (approx. € 3.30) per item per day.