Voice of Nature Sled Dog Tours / Expeditions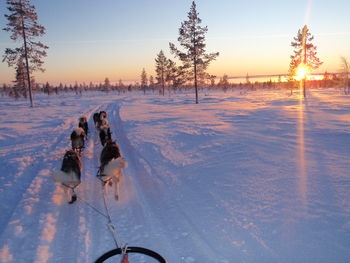 On our dog sled tours / expeditions, participants experience more than just a ride with sled dogs through the Swedish countryside. We let the participants immerse themselves in a new, mostly unknown world that lets them forget everyday life and the stress of today's fast-paced world. With our individually designed sled dog experience, the wishes of the participants can be specifically addressed.

The participants face the challenge of measuring themselves against the elements of nature and reflecting on their own abilities. During the tour, they concentrate on the essential things that are crucial for getting ahead with sled dogs in pristine nature. The focus is on the individual abilities of the group members, group cohesion, the dogs and the signals of the nature around us.

In a way, we're going on a journey through time with you. Since we forego many means of civilization during the journey with the dogs, it could also have taken place hundreds of years ago. We travel as the Indians and Inuit used to do long ago. To underpin this original timeless feeling, we work with Alaskan Malamutes and Greenland Dogs, the wolf-like sled dogs of the indigenous people of Alaska and Greenland.

We are the only ones in Europe that offer sled dog tours exclusively with purebred Alaskan Malamutes and Greenland dogs.

Alaskan Malamutes are the largest of the sled dogs and come from the Inuit people of the "Mahlemuten". They are very humane and playful, look very similar to the wolf and are very stubborn. The dogs awaken the feeling of traveling with wolves through untamed nature. The events are led by Hendrik Stachnau, one of the most successful sled dog handlers in the world (German and English speaking). He has overcome many extreme experiences in the toughest dog sled races in the world and will take you into the world of sled dogs.

During our trips you will discover life in a new way and experience a very positive attitude towards life, which is based on the originality of life.

You will be strengthened and return to everyday life with new impulses.